Onward & Upward
Transition can be difficult to navigate. The loss of a friend, a move to a new town, the realization that some goals won't be met are all somewhat confusing at first. When we grieve a loss or face a large shift, it's important not to lose sight of what God has in store for us if we rely on Him. Our pastors have worked on helping us along the journey of transition with several devotions geared to give us important building blocks needed for strength to press forward.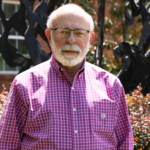 You have lost one of your pastors. The death came quickly, almost unannounced. We all had prayed that David would get better and recover from his bout with Covid-19, but it did not happen and we were devastated.
It seems like an unimaginable truth, yet its reality is now fully among us. In searching for ways to cope and looking at stages of grief, I found a word that was helpful. That word was an acknowledgment that we are called to be instruments of grace to one another. God uses us to help in the healing process that all need to experience. Remember again these powerful words that are written by St. Paul in II Corinthians 1:3-7. "Blessed be the God and Father of our Lord Jesus Christ, the Father of mercies and God of all comfort, who comforts us in all our affliction so that we will be able to comfort those who are in any affliction with the comfort with which we ourselves are comforted by God. For just as the sufferings of Christ are ours in abundance, so also our comfort is abundant through Christ. But if we are afflicted, it is for your comfort and salvation; or if we are comforted, it is for your comfort, which is effective in the patient enduring of the same sufferings which we also suffer; and our hope for you is firmly grounded, knowing that as you are partners in our sufferings, so also you are in our comfort."
Seize your opportunities to lean into the pain of others and then serve them.
In his article titled, "Two Things We Need to Believe To Help People Who are Grieving", Dale Thackrah shares important points to remember:
1. Believe in the One Who Has the Power to Heal
2. Believe You Can be an Instrument of Grace
We, in the end, are simply called to be compassionate. It is a powerful word that literally means for us to "suffer with" another. It means more than just offering a sympathetic word or experiencing a moment of sadness.
Nouwen says it like this. "To live with compassion means to enter others' dark moments. It is to walk into places of pain, not to flinch or look away when another agonizes."
God can bring the comfort and we can offer our presence. We are called to be there and be available. He concludes that compassion is possible when we walk with Jesus.
Our Lord has commanded us to love one another as He has loved us. God is part of our mourning, and when joy returns He will be with us still. Even, in our darkest moments, grace abounds and we can be used to translate that grace to one another.
In Christ,
Rev. Dr. Harry Durbin
Rev. Renee Dillard, a counselor with Methodist Le BonHeur, thought it would be helpful to provide the following resources.
For Grief Support: