The church staff has collaborated to bring to you this resource to use alone or with your friends and family. Below, you'll find scripture, a short message, music, activities for children, and a devotion for youth and adults. We hope this will be a blessing to you and our entire church family!
OPENING PRAYER
God, our Father, teach me this day to love others as you have loved me. Open my ears so I may hear your word and be changed by it today. In Jesus' name I pray. Amen.
SCRIPTURE
John 13:1-17 New Revised Standard Version (NRSV)
Jesus Washes the Disciples' Feet
13 Now before the festival of the Passover, Jesus knew that his hour had come to depart from this world and go to the Father. Having loved his own who were in the world, he loved them to the end. 2 The devil had already put it into the heart of Judas son of Simon Iscariot to betray him. And during supper 3 Jesus, knowing that the Father had given all things into his hands, and that he had come from God and was going to God, 4 got up from the table,[a] took off his outer robe, and tied a towel around himself. 5 Then he poured water into a basin and began to wash the disciples' feet and to wipe them with the towel that was tied around him. 6 He came to Simon Peter, who said to him, "Lord, are you going to wash my feet?" 7 Jesus answered, "You do not know now what I am doing, but later you will understand." 8 Peter said to him, "You will never wash my feet." Jesus answered, "Unless I wash you, you have no share with me." 9 Simon Peter said to him, "Lord, not my feet only but also my hands and my head!" 10 Jesus said to him, "One who has bathed does not need to wash, except for the feet,[b] but is entirely clean. And you[c] are clean, though not all of you." 11 For he knew who was to betray him; for this reason he said, "Not all of you are clean."
12 After he had washed their feet, had put on his robe, and had returned to the table, he said to them, "Do you know what I have done to you? 13 You call me Teacher and Lord—and you are right, for that is what I am. 14 So if I, your Lord and Teacher, have washed your feet, you also ought to wash one another's feet. 15 For I have set you an example, that you also should do as I have done to you. 16 Very truly, I tell you, servants[d] are not greater than their master, nor are messengers greater than the one who sent them. 17 If you know these things, you are blessed if you do them.
John 13:31-35 New Revised Standard Version (NRSV)
The New Commandment
31 When he had gone out, Jesus said, "Now the Son of Man has been glorified, and God has been glorified in him. 32 If God has been glorified in him,[a] God will also glorify him in himself and will glorify him at once. 33 Little children, I am with you only a little longer. You will look for me; and as I said to the Jews so now I say to you, 'Where I am going, you cannot come.' 34 I give you a new commandment, that you love one another. Just as I have loved you, you also should love one another. 35 By this everyone will know that you are my disciples, if you have love for one another."
New Revised Standard Version (NRSV)
New Revised Standard Version Bible, copyright © 1989 the Division of Christian Education of the National Council of the Churches of Christ in the United States of America. Used by permission. All rights reserved.
A MAUNDY THURSDAY REFLECTION
INTRODUCTION
Today is Maundy Thursday. The word "maundy" comes from the Latin word "mandatum" and means "commandment". Maundy Thursday is a day to remind us to follow Jesus' last commandment to his disciples, according to John 13:34, "A new command I give you: Love one another. As I have loved you, so you must love one another (NIV).

Look at the included images representing the Last Supper. What do you notice about them? Any differences? Any similarities?



Now imagine yourself there. What sounds do you hear what scents do you smell; what emotions do you feel?

Look at the included images of Jesus washing his disciples' feet. What do you notice about these images? Which one are you most drawn to and why?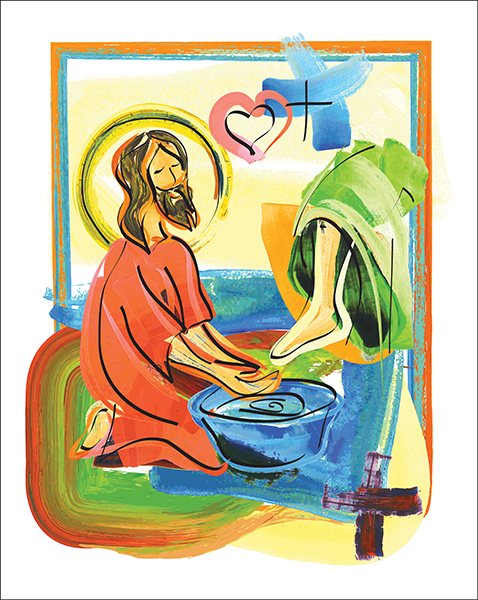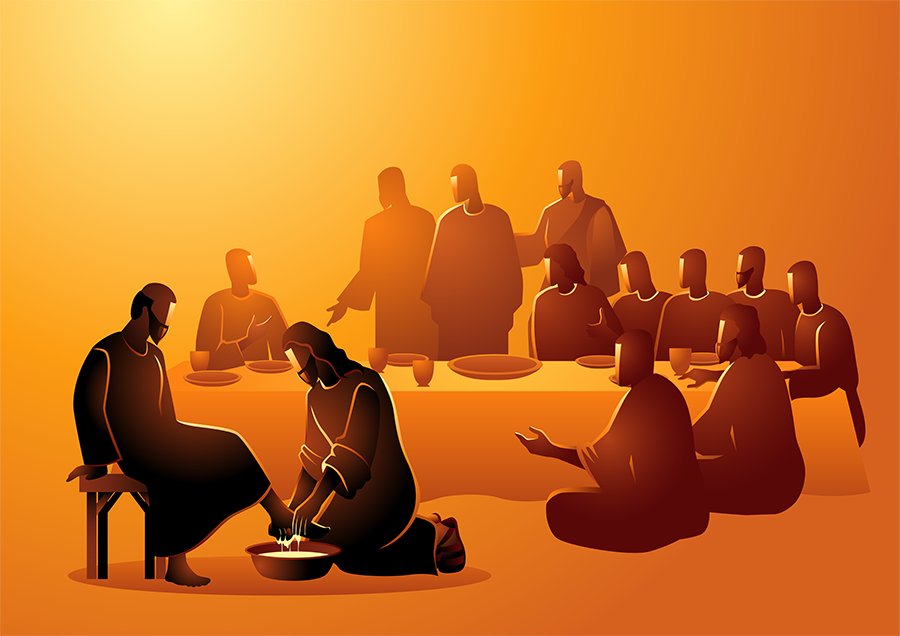 RESPONSE
Now choose at least one of the following responses to end this time with God.
• Create your own Maundy Thursday art
• Wash the feet of each family member in your home
• Write a prayer of thanksgiving for Jesus' example of service and love.
• Make a plan for helping someone in need during this time of "safer at home" (ex. donating food items, giving money to an organization, getting groceries for a person who is
vulnerable, calling people who are isolated, making masks, etc.). Then pick a day to execute it.
SONGS OF WORSHIP
CLOSING PRAYER
Holy One, we give thanks for your word,
which has been with us this day.
Help us remember the lessons you teach,
that through brokenness
we find healing and new life;
and that through the waters of grace
we find cleansing and rebirth.
May these words be written on our hearts,
and shared with the world,
that all may come to know
your love and your grace. Amen.
From The Abingdon Worship Annual 2020. Copyright ©2019 by Abingdon Press. Used by permission.