Lent at Home
WHAT IS LENT?
Lent is a time of repentance, fasting, and preparation for the coming of Easter. It is also a time of self-examination and reflection. The season begins on Ash Wednesday and ends on Holy Saturday, which is the Saturday before Easter. Since the date of Easter changes each year, unlike Christmas, the dates of the Lenten season change each year too.
Lent lasts 40 days. The 40 days represent the time Jesus spent in the wilderness preparing for ministry before his temptation by Satan. The 40 days does not include Sundays. This is because every Sunday is a "Little Easter", or a remembrance of the resurrection of Christ each week.
HOW DO WE USE THIS AT HOME LENT KIT?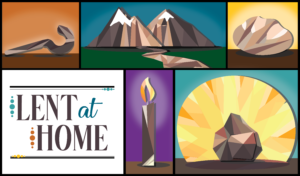 During these 40 days, through your Lent at Home Kit, your family will journey through reflection, repentance and growth as you strengthen your relationship with God as a family.
Each week CUMC will release a video devotional below that digs in to each of the elements we will use to journey through Lent together. You will find most of these elements included in your Lent at Home Kit. Your family will be responsible for acquiring the elements noted with an asterisk(*). Following the devotion video, your family may then follow the card for that week. Each card has a Scripture, reflection questions, and a prayer that are related to the element of that week.
With this Lent at Home Experience, our hope is that you and your family are able to cultivate the spirit of the lenten journey in your own space. We are thankful that you celebrated lent with us and can't wait to see you online or in-person on Easter Sunday!
Blessings!
– CUMC Staff